Mundane tasks can now be replaced with errorless precision, faster and without any user intervention.
We specialize in these markets
Our clients
Long Term Care
Assisted Living Care
Independent Living
Property Management Groups
Automation is the use of control systems with the aid of sensors, electrical equipment, and information technologies for handling different processes to replace errors and human intervention.
Complete Control for Smarter Facilities
ControlledCare automation add-on offers value to facility management, in terms of lowering routine costs, heighten efficiencies and offers greater returns. Through the use of smart sensors and devices, the addon ca create a safer environment, smarter, more efficient and one that uses less energy. All of these benefits contribute to a sustainable and cleaner environment whilst delivering a greater ROI.
Examples of automated processes
Temperature control: Real-time adjusting of thermostats in different zones
Water detection: Real-time notification and detection of water leaks
Water level: Automatically adjust water levels as needed in pools, tubs and other areas
Light control: Activate light control automation based on sensors, time/date
Motion sensing: Access control based on motion sensing devices
Access control: Automated access control based on rules and positioning
Equipment monitoring: Monitor equipment location using positioning
Security: Alert security based on motion, access control and alarms
Temperature Humidity Sensor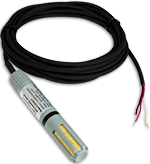 Temperature Range:

-40°C to 80°C (-40°F to 180°F)

Temperature

Accuracy:

±0.4°C (typ 0°C to 80°C)

Humidity Range:

0-100% RH

Humidity

Accuracy:

±2%
Water Sensor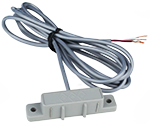 Will Detect Any Conductive Non-Flammable Liquid
Automatic Reset
6 Foot Jacketed Lead Standard
Detects liquids of 1/16″ in depth
Temperature Sensor (mounted)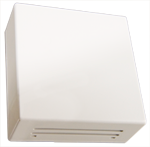 Temperature Range:

-40°F to +149.9°F (-40°C to 65.5°C)

Accuracy:

±0.5°C (from -10°C to +65.5°C)

Type:

Digital "1-wire"
Dimensions: 2 3/4″ x 2 3/4″ x 1″
Digital Temperature Sensor (1m)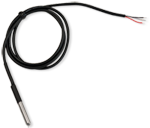 Temperature Range:

-67°F to 257°F (-55°C to +125°C)

Accuracy:

±0.5°C (from -10°C to +85°C)

Type:

Digital "1-wire" thermometer probe

Rating:

IP66 (Dust tight, water spray)
Extend cable length up to 600 feet in length (comes standard with 1 meter/3 foot cable)
2 inch long Stainless Steel probe
Weather resistant
Temperature/Humidity Sensor (wall mounted)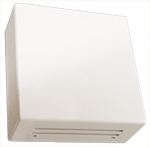 Humidity Range:

0-100% RH

Accuracy:

±1.8%
Temperature Range: -40°F to +149.9°F (-40°C to 65.5°C)

Accuracy:

±0.5°C (from -10°C to +65.5°C)
Dimensions: 2 3/4″ x 2 3/4″ x 1″
Glass Break Detector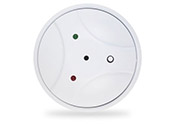 Monitors for the sound of breaking glass
Two test LEDs
Dual shatter recognition technology
360˚ range
Tamper protected
Fully supervised
Lithium battery
Heat/Smoke/Freeze Sensor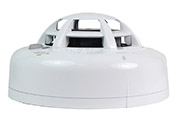 Smoke, heat, and freeze detection
Ability to separate the three detection features
Self-contained sounder
Supervised transmitter and status LED
Tilt Sensor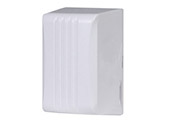 Wireless Tilt Sensor
Sensor transmits alert when tipped 45° off vertical
Restore signal sent when sensor returned to less than 45°
Our complete suite of applications will ensure that your system is completely integrated, and all devices complement each other and work in unison. The add-ons allow your system to expand beyond a simple call bell system, to an automated, fully interactive and smart communication system.